Animal Shelter
Animal Shelter - Contact Email: animalshelter@jacksonnc.org
The Jackson County Animal Shelter is run through the Environmental Health Section of the Jackson County Health Department. The Jackson County Animal Shelter is located 2 miles from the main entrance of Western Carolina University.

CLICK HERE - FOR ANIMAL SHELTER DETAILS
The main purpose of the animal shelter is animal control and protecting public health by enforcing state rabies laws. The shelter also does stray pick-ups, handles animal bites and provides adoption services. Animal Control does work animal cruelty & neglect cases. Animal control does not handle wildlife issues.
The Animal Shelter is open Monday through Saturday from 8:00am to 4:30pm. We are closed on these days from noon until 2pm. If you need to report a animal bite after hours, please contact the Jackson County Dispatch at 828-586-1911 to have an animal control officer paged.
Laws & Procedures

Animal ordinance and procedure for Adopting or Relinquishing an Animal
Vaccination of all dogs and cats.
The owner of every dog and cat over four months of age shall have the animal vaccinated against rabies. The time or times of vaccination shall be established by the Commission. Rabies vaccine shall be administered only by a licensed veterinarian or by a certified rabies vaccinator.
Jackson County Animal Ordinance
Adopted 1-22-2008; Amended June 2008
Animal Control Ordinance Amended June 2008 (2140 KB)
Notable changes to the ordinance
Don't sell or give your animals away at Walmart or any public place. Unless you are a licensed pet store, a 501c3 nonprofit organization, or a licensed shelter, it's illegal! (see section 15).
You can now file nuisance complaints with the magistrate (See section 16).
All animals adopted from the shelter MUST be spayed or neutered within 30 days. If not, they wll be seized. Make sure you're compliant! (Section 9A).
The shelter's mandatory animal hold for strays is now 3 days. After that, your pet will be either made available for adoption or euthanized (see section 6).
Adopting an Animal
Adopting an animal usually costs $70 for dogs and $55 for cats. This fee includes a voucher for spay and neuter at selected veterinarians, a rabies vaccine, and a housing fee. (You will receive a coupon to present to your veternarian). Fees are reduced for animals that have already been spayed / neutered and / or received a rabies vaccination. Many dogs and puppies have also received a distemper/ parvo vaccine courtesy of ARF (Humane Society of Jackson County) and a bordatella vaccine courtesy of Petfinder.com and the Animal Rescue Site.
To adopt an animal, you must provide your driver's license and physical address.
All dogs and puppies must leave the shelter with a collar and leash; you can purchase those items at the shelter or bring them with you when come to adopt.
All cats and kittens must leave the shelter in a carrier; please bring one with you when you come to adopt.
The following is a partial list of veterinarians who can spay your pet (please call to find out if additional charges will apply):
Jackson County Veterinary Associates (828) 586-8383
Sylva Animal Hospital (828) 586-8587
Cope Creek Animal Clinic (828) 586-3534
Cashiers Village Vet (828) 743-5656
Asheville Humane Alliance through ARF (

Read about monthly spay trips

sponsored by ARF at 877-ARF-JCNC or 877-273-5262)
Relinquishing an Animal
Before you surrender your pet, you should browse our site to learn about low-cost options for obedience training, behavior modification, and spay/ neuter. Most animal behavior problems can be fixed with a little work. Call us. We can refer you to dog obedience trainers, or just give some helpful hints over the phone that may allow you to continue living with your pet.
If you must relinquish your animal, please call ahead to see if we have room. Do not tie animals to our gate or abandon them.
Animal abandonment is a criminal offense.
GS 14-361.1.1 - Abandonment of animals.

Any person being the owner or possessor, or having charge or custody of an animal, who willfully and without justifiable excuse abandons the animal is guilty of a Class 2 misdemeanor.
Please be prepared to spend some time with a staff member when you come in to surrender your pet. Please bring your pet to the shelter yourself. Owner information will be very helpful in placing your animal in a home that matches your pet's needs. You will be asked to fill out a personality profile about your pet.
What to Bring
Veterinary records. Your pet will be more likely to be adopted if it has veterinary records. Also, this saves the shelter the expense of having to vaccinate your animal.
Keep pet supplies and toys. Unfortunately, we do not have the storage space to hold your pet's supplies and toys. Please tell the staff person who does your surrender counseling that there are things you'd like your pet to have in its new home and a note will be placed on your pet's paperwork for the new owners.
Come during shelter hours. Please DO NOT leave your pet outside the shelter when the facility is closed. This can be dangerous to your pet's health, and we cannot guarantee that someone will not take the animal from outside the shelter. Do not give your pet to anyone who approaches you in the parking lot, as people can often have other motives for acquiring your pet.
Donations of money or supplies are always welcome.
When surrendering an owned animal please bring proof of ownership (ie. veterinary records, AKC, UKC, CKC papers).
Our Services



Adopting an Animal

Adopting an animal from a shelter is a wonderful experience. Not only are you saving a life but you are adding to yours.


The adoption fee for a dog is $70 and $55 for a cat. This fee will go towards the spay/neuter process and the rabies shot. Fees are reduced for animals that have already been altered or current with their rabies shot.




If you are interested in adopting a dog please bring a collar and leash or you will be charged for a leash ($5) and collar ($5). County policy requires that all dogs over 4 months of age leave the shelter with a collar and rabies tag.




If you are interested in adopting a cat please bring a carrier cage or a $5 fee will be added to the adoption fee for a cardboard carrier to safely transport the cat.



Volunteer Opportunities




The Animal Shelter offers a volunteer program. Volunteers assist with bathing adoptable pets, general socialization of animals, walking the dogs & sometimes cleaning the shelter. For more information about this service, please email the Animal Shelter at:

animalshelter@jacksonnc.org


Contact Us

The Jackson County Animal Shelter is located next to the Jackson County Airport in Cullowhee, NC. The best way to contact us is by telephone. Because technology is not always reliable, it may take us longer to respond to email queries.
By Mail:
Sylva, NC 28779
538 Scotts Creek Road Suite 100
Sylva, NC 28779
By Phone:
Phone: 828-586-6138
Fax: 828-586-8018
E-mail: animalshelter@jacksonnc.org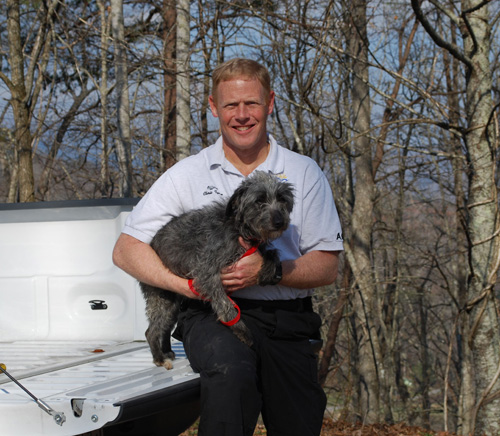 Chris Tyson is the Lead Animal Control Officer. He is the primary contact for emergencies, complaints, and animalcontrol questions. His email address is
animalshelter@jacksonnc.org
View Larger Map
---
---