Well at Work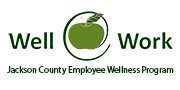 Well@Work is the Jackson County Employee Wellness Program. Well@Work is for employees, by employees. The primary objective is to offer education, support, and resources in a fun and relaxed atmosphere so that employees can obtain and maintain a healthier, more productive lifestyle that benefits themselves, their families, and their community.
The 2014-2015 Well@Work program has taken on a new format to increase employee engagement and participation - all while encouraging a healthier lifestyle. This year there are three categories that you can earn points in: Physical Activity, Monthly Challenges, and Wellness Opportunities. Please review the information sheet for each category below for more details. Remember 5 points = $50 Visa Gift Card!
Well at Work - Contact Info:
Phone: 828-631-2212
Email: wellatwork@jacksonnc.org
2016-2017 Well @ Work Calendar of Events (1013 KB)
2016-2017 Well @ Work Points Sheet (104 KB)
Physical Activity
Track your physical activity to earn wellness points. To earn one point you must accumulate a minimum of 1200 minutes, remember to log all activity and turn in by the due date on the log.
Physical Activity Log Information Sheet (989 KB)
1st Quarter Activity Log - (July 2016 - Sept. 2016) (16 KB)
2nd Quarter Activity Log - (Oct. 2016 - Dec. 2016) (16 KB)
3rd Quarter Activitiy Log (Jan. 2017 - Mar. 2017) (16 KB)
4th Quarter Activity Log (April 2017 - June 2017) (16 KB)
Monthly Challenges
Well@Work will continue to offer monthly challenges in different wellness areas. To earn one point you must complete the challenge and turn in the log/voucher by the due date indicated.
March Challenge (1629 KB)
April Challenge (955 KB)
May Challenge (2483 KB)
June Challenge (960 KB)
Wellness Opportunities
Attending health classes, smoking cessation, blood donation, getting a preventative screening or involvement in community events (5K, 10K, Relay 4 Life, etc.) can earn you points! To earn one point you must complete the voucher and turn it in within 30 days of the event - please read the information sheet for detailed information.
Wellness Opportunities Information Sheet (891 KB)
Wellness Opportunity Voucher (246 KB)
County Offices Walking Maps
Map of Park Trails (2444 KB)
Community Services Map (2339 KB)
Aging Complex Map (2141 KB)
Justice Center Map (2337 KB)
Cashiers Map (1993 KB)
---
---